You may have noticed in our photo gallery pictures of a pine tree removal job performed by our crew with pollen disbursing into the air. The pollen effect in May/June can be pretty intense and visible when removing pine trees during these months specifically. The yellow dust that you may see floating around in the air, on sidewalks, patios, decks or cars is very likely from the pine trees in your yard and neighborhood. Check out the video link below. This is a common occurrence experienced by our crew and many other tree crews during May and June! It is fascinating to see it in progress, it can be messy and cause issues for those that suffer from allergies, but necessary to occur in nature.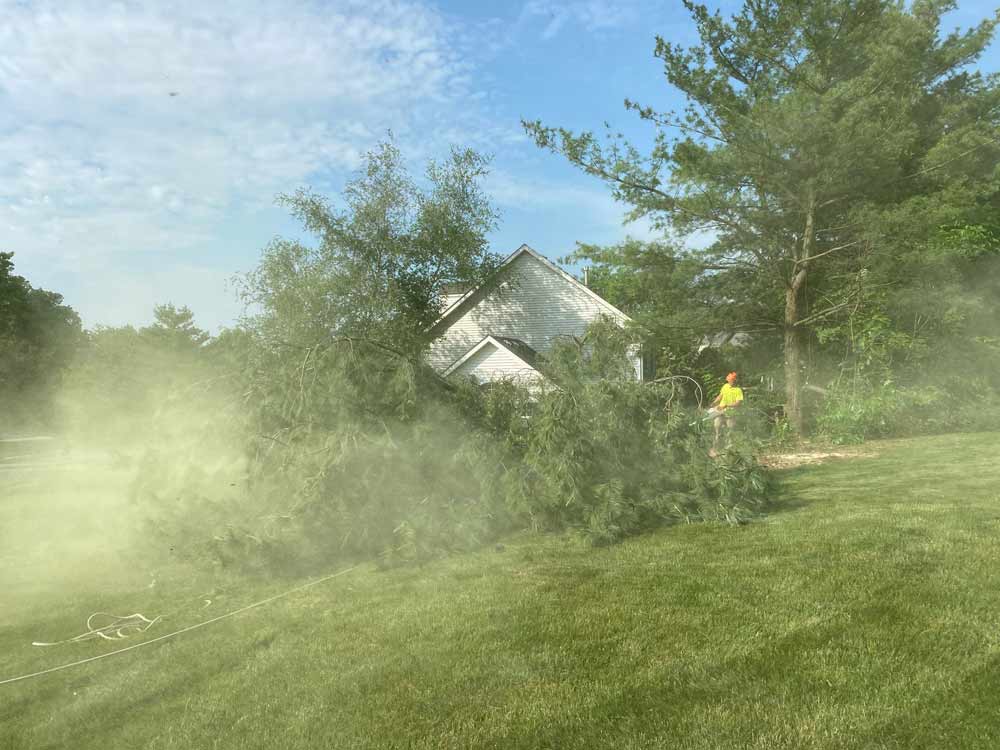 https://www.smithsonianmag.com/smart-news/watch-pine-tree-unleashes-huge-fluffy-pollen-cloud-180969048/
Ask one of our crew members about this job! They can tell you first hand from their experience on the job site about removing pine trees and the pollen unleashing phenomenon.
We are frequently asked what are the best types of trees or bushes to re-plant in an area where a tree or bush may have been removed by our crew. There are many options available to property owners that offer the best optimal growth and success within our region. It is always best for economic and environmental reasons to choose a species that will thrive in our environment and weather patterns throughout the state. Often times, we have to remove a tree or bush for a customer that probably should not have been planted in the first place, either it is not best for our environment and does not thrive or it was planted in an area that is just simply too small which requires removal quicker than the usual life of the tree or bush would be under normal circumstances. It is unfortunate when either of these situations occur.
Also, a good rule to note is that it is always best to re-plant at least 16" – 18" inches away from where any stump grinding may have taken place. A small amount of research can go a long way for the best options when considering where and what type of tree or bush to plant in Ohio. The link below offers a few helpful tips regarding tree and bush species that are recommended to be planted in the buckeye state.
Our company can provide oak tree trimming from the months of November through the end of March. This is the optimal time for oak trees to be trimmed as recommended for those of us that reside in the state of Ohio. Our company can certainly provide an estimate any time of the year for oak tree trimming, but ultimately advise that these trees be trimmed in the time frame recommended for the health and vitality of the tree long-term.
We appreciate the opportunity to continue to serve the Medina County and surrounding areas with respect to tree removal/trimming, bush removal/trimming, stump grinding services and Spring/Fall Clean-up. The launching of our new website establishes another step toward our annual goal within our company to continually improve our customer service, communication, safety, and our commitment to bringing the best experience to our customers from the initial contact through job completion.
We are proud to be family owned and operated and to be a part of the small businesses within our community. Our growth would not be possible without you choosing to be our customer! Special shout out to our amazing crew, their hard work and dedication and to making each day fun to be at work!!!
Take a few moments to familiarize yourself with our new site, our Mission Statement, our Vision, our Experience and the Services we offer. We offer free estimates for residential and commercial property locations. It is our pleasure to answer questions as you move through the process with our company.
Stay safe and healthy and best regards,
Scott & Pamela Switzer
Owners, Anytime Tree Service